Damn, I Love The Tams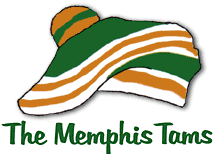 For some reason I can't take my eyes off of the Memphis Tams. Maybe it's those garish green-and-yellow ABA throwbacks they sport during the retro nights, or perhaps it's because their mascot is a hat but whatever it is, I am fascinated with this team.
Of course, for the vast majority of the season they are the Memphis Grizzlies which is not only a geographical paradox, it is also the nickname of a failed business endeavor in Vancouver. I feel the franchise should embrace the Tams image and instill a true sense of belonging to the people of Memphis rather than that of a bear who lives far, far away.
All that aside, my interest is piqued in this bunch because they are in an awkward phase of basketball adolescence, where the basics have been firmly established but the subtleties of their collective game must now emerge. Greatness is within reach of the individuals involved, but only time, experience and familiarity will provide the finishing touches of a truly impressive postseason run in the future.
What I like most about them is that there is always a sense of calm within this group, a belief that they can always come back. Whether that is the influence of head coach Lionel Hollins is not for me to know, but whatever the case, the Tams stick to the plan and are poised up until the end of games. I think other than just being young and headstrong, their confidence stems from the knowledge of the rigidly defined roles Hollins has carved out for each player. Because the unit has bought into the scheme, what most see as a pretty average collection of talent is now 17-14 and sits sixth in the West.
The cast of characters is a weird one.
There are the scorers, Rudy Gay and O.J. Mayo. Gay is a sleepy-eyed slasher extraordinaire who consistently gets good looks at the rim but doesn't have the all-world shooting ability to put him in the elite scoring range; he is Durant the Lesser. Still a blooming talent, Gay combines effortless athleticism with a growing shooting range and an early mastery of the backboard. He is a rangy, loping player that excels more in an uptempo environment. Maintaining a level of consistency is Gay's final frontier and that only comes with time.
Mayo (North College Hill High, Cincinnati) comes off the bench and hoists shots anywhere and anytime he touches the ball. From a distance he looks like a deranged gunner who is blind of teammates, but he is instructed to spray shots at will, and while he grumbled about it at first, his role of bench shooter now suits him just fine.
There are big men. All-star Marc Gasol is a distribution center of offense who towers over everyone else and holds the ball in one hand ready to fastball it to a cutter at the rim, or stand-on his tip-toes while shooting an 18-footer. He has great hands, a good basketball instinct and a developed sense of finesse that comes with most European players. To me, he looks like a Spanish Wookiee who dominated the Kashyyyk league before joining the NBA.
Next is Marreese Speights, a polite but slow-witted young man who is there for rebounding and put-back scoring. Every so often, Speights will put the ball on the floor and complete an impressive spin-move lay up to the left, or knock down the open 20-footer himself, but for the most part, he's there to clean up the garbage around the rim. He does have the size and make up of a promising power forward for the future and has given Memphis quality minutes since injuries forced him into the starting lineup. He is an interesting pick up and is arguably underrated.
The ball-handling on the team is primarily made up of Mike Conley. Finding a consistent shooting ability is still the career goal for Conley, but he has made strides in that area already in the first half of this season and is another youngster coming into his own. He is developing into a crafty left-handed floor manager who looks comfortable running both the break and the half-court offense. He plays good defense and stays under control. Conley still isn't great, but he is more than serviceable and getting better everyday.
Lastly are the eclectic energy guys. There is no better energy player in the league than Tony Allen. The man is hell on wheels, Captain Chaos, and his effort alone leads to the rapid dismantling of the opposition's plan of attack. He is a defensive stopper and a thorny physical player that wears most men down, but he is also a very controlled offensive player on the break and even a fairly clutch outside shooter. He is a coaches dream and a key ingredient in a playoff series.
The other energy bursts off the bench are forwards Dante Cunningham and Quincy Pondexter. Cunningham is good on the glass and is tall enough to defend big men in the post, while Pondexter is deceptively thick and often plays bigger than his 6'6'' frame. These two have the most impact with their hustle and both are important to the season's remainder, particularly Cunningham.
Yet for all that praise, there are still a few loose threads on these Tams.
One concern surrounds Zach Randolph—the 20 points 12 rebounds guy—who is due to return from a knee injury in the next month or so. Z-Bo flashed in the playoffs last year, pairing with Gasol as a low-post scoring machine that dispatched San Antonio from last year's playoffs in remarkable fashion. It was perhaps Randolph's greatest stretch of play and caused quite a buzz around the league at the time. During the run, Memphis played a deliberate half-court set that relied on the high-low game of the skilled big men underneath. Rudy Gay was out then with an injury himself, so the team went through the post to win instead.
Four games into the season, Randolph hurt his knee and the mixing of styles between Gay and Z-Bo was again put on hold. Since then, Memphis has sped up their play and prefer a fast-break offense predicated on the many steals they force. It serves the team's youth, energy and speed, but Randolph isn't known for any of those qualities and one has to wonder how Hollins will go about placating Zach without disrupting the others when he comes back.
The other problem facing the team now is a lack of a back-up point guard. The two rookies off of the bench, Jeremy Pargo and Josh Selby, are cannon fodder for the league mostly, and neither are guys you want to give many minutes. Pargo seems quiet on the court which isn't always a bad thing, but also doesn't provide a ton of job security, while Selby is just brainless with the basketball far too often to rely on. To Selby's credit, he is very young and isn't used to playing point guard but as of now he does not look NBA-caliber.
These problems are minor and this is not a franchise that needs three more years to compete for a championship. Many of the pieces are in place and now it's time to see them all work together. It feels presumptuous to consider them championship-caliber this season, but I do expect more heads to turn and check out those hideous uniforms worn by the wily Tams, challenging the big dogs of the West. Perhaps not quite a success story, I expect the rest of the season for Memphis to be a later chapter in a coming-of-age novel where the protagonist realizes he or she really can do it after all. So if you're looking for an underdog sleeper team to slay a few dragons this April, tune into Memphis and cheer on the hats!
Mojokong—we river cities stick together.